WALDNER TECNOLOGIE MEDICALI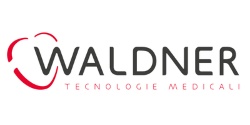 Founded in 1997 and subject to control and coordination by the Waldner Group, the company operates in the medical technology sector for public and private healthcare facilities.
Energy, dedication and determination in pursuing high standards of excellence are the factors that allowed us to develop over the years considerable skills alongside those who, like ourselves, want to improve people's health and wellbeing.

Waldner Tecnologie Medicali understands the importance and responsibility associated with such a role.

We are committed to providing a service that does not end with the commercial offer, but supports healthcare professionals with a competent presence in their daily work. That's why we always work together with our partners to study and develop solutions and customized programs to meet individual requirements.

In the pre- and post-sales consulting service, our Commercial Team is supported by the whole company structure and especially by our Technical Assistance division, which deals, in addition to testing and installation, with equipment inspection and maintenance and, if necessary, promptly intervenes.

This synergy of skills and professionalism, accompanied by continuous training, allows us to constantly support clients with our expertise.

Not just technology, but commitment and knowledge to support those who take daily care of people's wellbeing.

MISSION
Not just medical technology, but also commitment and knowledge to support those who take daily care of people's wellbeing.

Waldner Tecnologie Medicali has set itself the primary objective of meeting its clients' diverse needs with solutions as technologically advanced as possible in the field. And not only that: Waldner is committed to guarantee an assistance that can support with presence and high quality services all Clients and Partners that are part of our network.

We work every day with the outmost dedication and respect alongside people who, like ourselves, aim at the highest standards.
Webinar
Evento
Location
Tipo
Dettagli