EURES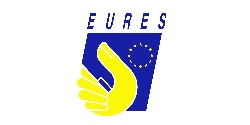 Eures - European Employment Services – is a cooperation network coordinated by the European Commission and involves the participation of trade union and employers' organizations. Its purpose is to improve the European labour market by increasing employment through greater worker mobility: facilitating the free movement of workers within the European Union and fostering the matching of labour supply and demand.
The Network's strong points:
• the service is free of charge;
• more than 900 advisers offering Eures services across 31 European countries Austria, Belgium, Bulgaria, Cyprus, Czech Republic, Denmark, Estonia, Finland, France, Germany, Greece, Hungary, Ireland, Iceland, Italy, Latvia, Liechtenstein, Lithuania, Luxemburg, Malta, Netherlands, Poland, Portugal, Rumania, Slovakia, Slovenia, Spain, Sweden, United Kingdom, Norway, Switzerland. Services will also be available in Croatia from July 1 2013.;
• advice, personalized services and assistance in every Member State;
• information on living and working conditions (including national legislation) of all the Member States;
• fair mobility and equal access to the labour market;
• access to over one million job vacancies and a wide range of opportunities in all sectors across the EU.
• the network is currently under reform in order to reach the objectives set down in the Europe 2020 strategy (reach 75% employment for women and men aged between 20-64 by 2020). The reform aims at strengthening the EURES network for a more open and inclusive labour market, particularly for women and young people, by focusing on training tools such as traineeships and apprenticeships.
Webinar
Evento
Location
Tipo
Dettagli